This summer we are offering FREE back to school Community Cuts for kids and youth in the Preston Heights neighborhood.
We are partnering with local barbers and hair stylists in Preston Heights, Greenway-Chaplin and Silverheights neighborhoods to offer free haircuts to kids and youth. To learn more or register email Justin West at justinw@prestonheights.ca or sandra@silverheightsneigbourhood.com
---
Why Community Cuts?
A fresh cut can make a big impact on our personal health and wellbeing. Community Cuts supports families in accessing cuts for children and youth. It also supports local businesses and building community connections through partnership with local barbers
Thank you to the barbers, hair stylists and businesses that provided awesome cuts!
Cinderella Beauty Salon
1107 King St. E., Cambridge
519 653 9251
You can visit their website at https://cinderellabeautysa.wixsite.com/cinderella

Barber Pole & Co.
366 Hespeler Rd. #12, Cambridge
519 267 2127
You can visit their website at https://www.barberpoleandco.com/

Luna Salon
1834 corontation Blvd. (lower level), Cambridge
226 201 5862
You can visit their website at https://lunasalonandspa.com/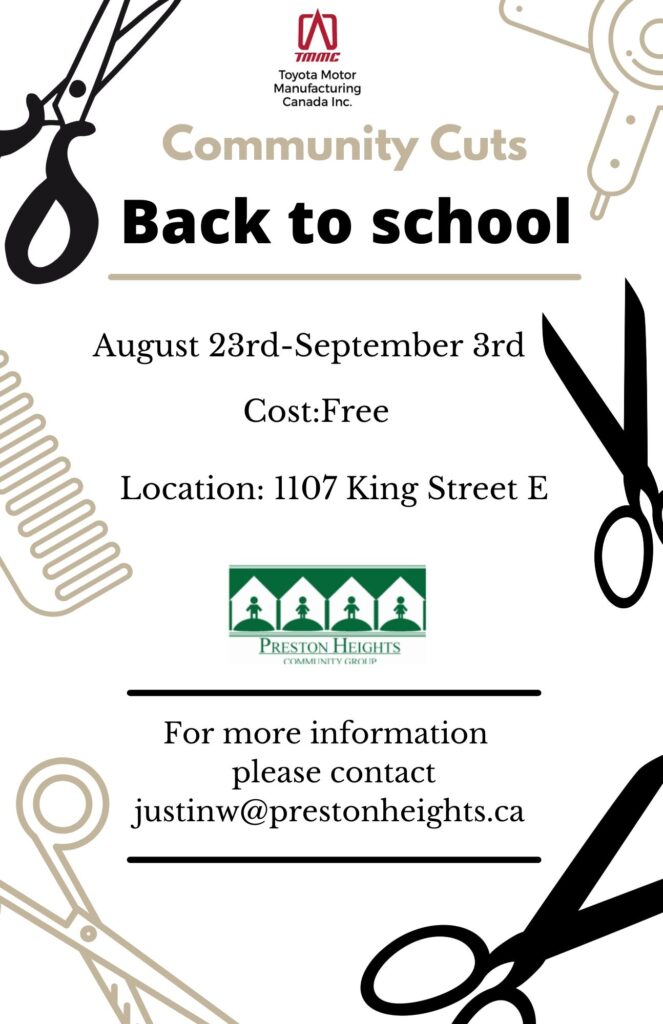 Learn about Community Cuts impact below.
Thank you to Toyota Motor Manufacturing Canada Inc.!
Our back to school community cuts are sponsored by Toyota Motor Manufacturing Canada Inc. We are grateful for their support!