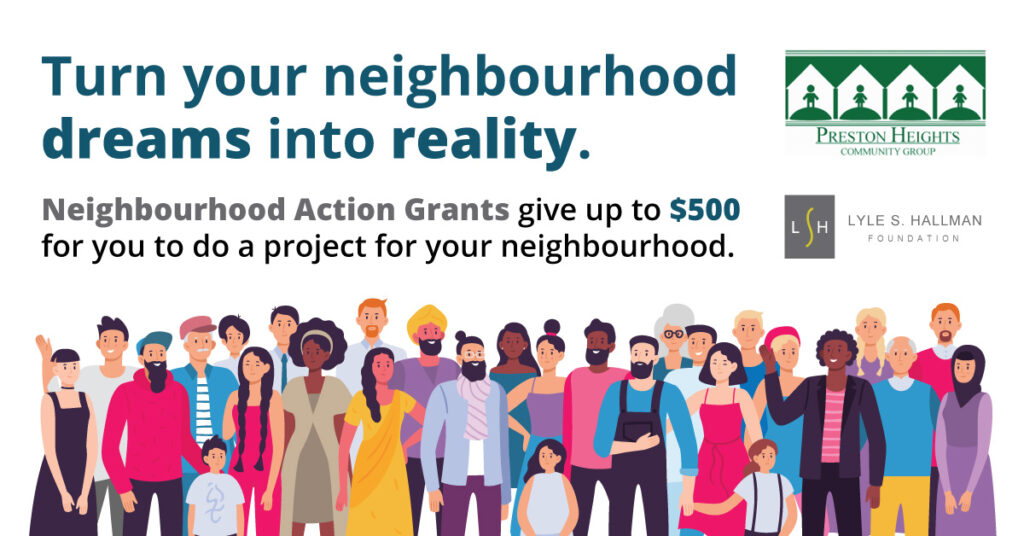 What are Neighbourhood Action Grants (NAGS) ?
NAG's are grants up to $500 for you to do a project in your Preston Heights Neighborhood (events, activities, learning opportunities and legacy projects)!
Grants support local residents to be leaders in community development projects in their neighbourhoods.
Goals of NAGS
Our goals for the Neighbourhood Action Grants are to support residents around:
leadership development
community skill and capacity building
What are past NAG examples?
Previous Neighbourhood Action grants at Preston Heights and other neighbourhood centres include:
The Preston Little Free Garden
Community art workshops and activities with local businesses
Youth Haunted Centre
Yard Sale
Who can apply?

Youth, adults and seniors are encouraged to apply
Two or more residents who live in Preston Heights and are from different households
What types of projects qualify for a NAG?

NAG Projects are:

time limited
creative
build knowledge and skills
social
good for the neighbourhood
free for neighbours to join in (the $500 grant should cover the costs)
How do I apply?

Our PHCG staff will help you think through your idea and make a project plan. We will help make sure it meets the grant requirements and create an application.

To start an application or talk through an idea with PHCG staff click the button below OR email Justin or Sandra at justinw@prestonheights.ca and sandra@silverheightsneighbourhood.com.
Where does the money come from? Do we have to pay it back?

The money for grants comes form the Lyle S. Hallman Foundation. This foundation gives money to agencies in Waterloo Region that help children and families.

Grants do not need to be paid back.
Is there support from Preston Heights Community Group?

Preston Heights Community Group staff will help you with:

thinking through ideas
submitting your application
putting the grant into action